I love shooting cars, and I LOVE shooting people… So combine the 2 with a 900hp racecar and a *slightly* well-known multi-championship NASCAR driver Jeff Gordon, and you have a very happy Clint. Pepsi has been on fire recently with their brilliant Disguise campaign… Basically dressing up famous athletes as regulars and surprising the unlucky victims. Uncle Drew and Test Drive 2 went viral instantly, for good reason!
Our angle for photography was to shoot nighttime cityscapes in Charlotte WITH the actual NASCAR one night, and then the next day shoot Jeff and Kasey Kahne in a studio. After all the images were taken, we combine them together to put Jeff and Kasey in an unlikely scene outside the usual racetrack. The results can be seen at multiple NASCAR races, and your local stores that sell Pepsi Max.
Pepsi demands the biggest and best image quality, therefore my solution was easy. Thanks to Lance Schad at Digital Transitions, I test drove a medium format Phase One IQ160 camera (60mp) mainly for this shoot. I've boasted before about the mind-blowing quality this camera spits out, and I'll say it again: THE SIZE AND IMAGE QUALITY IS RIDICULOUS! What's most impressive is the dynamic range, and ability to retain detail in bright/dark areas. It's pure wizardry. Scroll down to see some 100% crops of Jeff's beautiful face and see why I choose Phase One. And no I'm not being paid in money or back rubs to say this… Which would be nice because my neck feels a little tight now.
Overall, 2 days of location scouting + 1 night of on-location shooting at night with the racecar + 1 day at Hendrick's Racing to shoot Jeff in a studio = all you see below:
>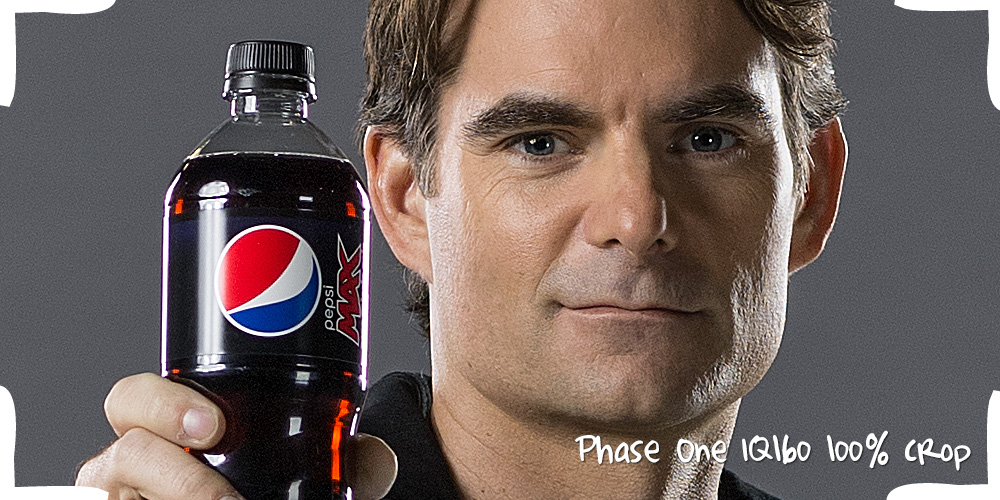 A MASSIVE thanks goes out to my assistants, Corey Jenkins, Linhbergh, and Jonathan Allsbrook. And of course the production crew Sarah Davis, Karen Weast, and the whole Pepsi Max Pack. Thank you!! Looking forward to what 2015 has in store.